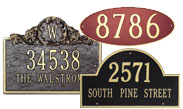 Free Shipping on Whitehall Address Plaques!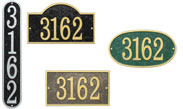 Free Shipping on Whitehall Address Plaques!
Our address plaques and house address signs can be that finishing touch that helps to add charm to your home. It will also help friends, firemen, police and others to quickly find your house. Please browse through our pages to find the plaque that is right for you. We carry wall mounted, lawn mounted, two sided lawn mounted, and two sided hanging plaques as well as stone posts. We have plaques from ten different manufacturers. The plaques are made of cast stone, etched slate, cast aluminum, stainless steel, ceramics, resin and eternal wood. There are reflective signs and illuminated signs. Many of our address plaques have designs which will allow you to express yourself. Some of our designs include, flowers, trees, fishing, dogs, cats, horses, dolphins, ducks, golf, sailing, an eagle, lighthouses, seashells, shamrocks, US flag, birds, beach scenes and much more. Some of our manufacturers are very rigid with the specifications shown on our site. Others are more flexible to special requests. Should you not see exactly what you are looking for, please call us and we will be glad to offer suggestions.
While most of our plaque customers are buying for their own homes, many are used as housewarming gifts. Unfortunately, none of our address plaques can be returned since they are made to order - to your specifications. If there is anything wrong with your plaque it will be replaced to your satisfaction. The time to make these plaques varies from four days to up to twenty-five working days depending on the manufacturer. Please check the manufacturer's time needed for production which is at the top of each category's page. If you have any questions about any of our products please call us at 1-800-882-7283 or e-mail us at rolandsgift@rolandsgifts.com ( this link is also on our home page and at the top of this page where it says Contact).
Quantity discounts exist for builders or anyone else who needs to purchase in a large volume. We can make special shapes, designs and sizes if you are buying in quantity. The volume necessary depends on the manufacturer. Please call us with any questions.
Does anyone know the history of address plaques and house signs? If we have any history buffs out there, please let us know if you have any interesting address plaque information. We imagine that the house address signs with a family name or crest might have come before number signs. While we do not know the history of address signs and house address plaques we believe that we are the best website in history for such items.