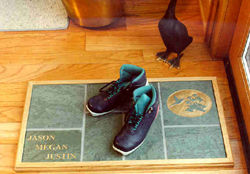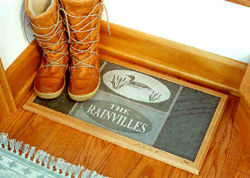 Vermont Natural Stonework has artfully designed a unique new product using natural slate with a border of majestic white oak which is routed, hand-rubbed, and sealed. Our boot mats offer a tasteful alternative to synthetic floor protectors such as vinyl or plastic and are durable and virtually maintenance free.
This is not a doormat - it is not meant to be walked upon regularly.
Choice of gold fill or plain cut. One design included in prices below (add $25 for an additional personalization). Allow 3-4 weeks for mat to be made plus 1-5 days for delivery.
Small 25.5" x 13.5" - $89 with design ($114 with design plus personalization)
Medium 31.5" x 16.5" - $99 with design ($124 with design plus personalization) plus a $5 shipping surcharge
Large 37.5" x 19.5" - $109 with design ($134 with design plus personalization) plus a $10 shipping surcharge

Choose from (Green or Black) Slate. Various etched designs available. (Note: the mat on the left is in Green; the mat on the right is in a discontinued color. The Black slate is darker than the mat than the one on the right and has a smoother surface which may tend to show dirt more.)
Haven't found what you're looking for? Take a look at these personalized door mats.