This doormat has flocked borders and personalization. Manufactured in the USA from natural coir (coconut) fiber bristles, which are inserted into a weatherproof, skid-resistant vinyl backing. The vinyl backing adds to their durability by preventing unraveling or deterioration of the natural coir fibers. This door mat is 1/2" thick and takes 15 working days to make and 1-6 days to ship.
24" x 36" (up to eleven 3" letters, or a 6" monogram)
Monogrammed: $52
With Name: $65
Plain: $35

30" x 60" (up to sixteen 4" letters, or a 7.5" monogram)
Monogrammed: $115
With Name: $125
Plain: $110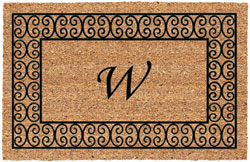 The following font applies only to monograms.